MoCo Footballers in the 2015 BIG 33 Classic
by MoCoFootball Staff on 02/14/15
Northwest HS will once again send three players to The Big 33 All-Star game. Linebacker
Brendan Thompson
(Millersville), running back
E.J. Lee
, and WR
Jamar Wilson
will be representing the Germantown school in the 58th overall season of the renowned contest that pit the best of Pennsylvania versus Maryland (with the rivalry rekindled in 2013). All three are All-MoCoFootball.com players.
Joining the Northwest trio of players to come from Montgomery County teams are Good Counsel linebacker Nicholas Miller (Univ of Pennsylvania) and Georgetown Prep offensive lineman David Forney (NAVY). Northwest head coach Mike Neubeiser will serve as Team Maryland's defensive coordinator.
Last season, Northwest was represented by running back Josh Gills, linebackers Rasheed Gillis and Samer Manna. There have been seven Northwest Jags since Pennsylvania began to play Maryland again in 2013 (Tyler Ambush).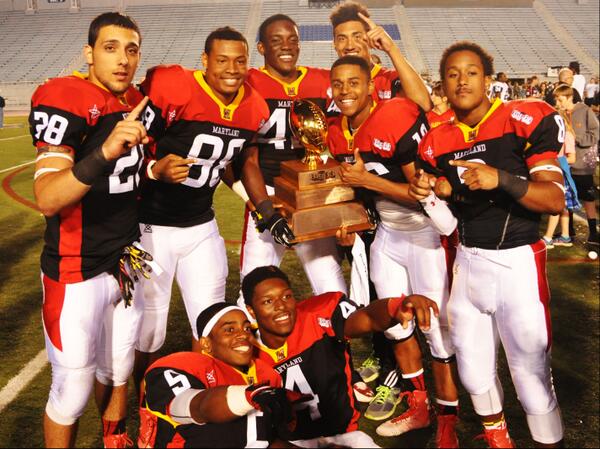 2014's Big 33 game had nine players from MoCo. Top: Samer Manna (Northwest), Stephon Jacob (Damascus), Daniel Appouh (Seneca Valley), Javon Curry (Paint Branch), Solomon Vault (Gaithersburg), Kevin Joppy (Quince Orchard). Bottom: Josh Gills (Northwest) and Rasheed Gillis (Northwest). Missing in this picture is Avery Taylor (Gaithersburg).
The Big 33 Classic boasts about having an alumni play in every Super Bowl. Maryland defeated Pennsylvania in last summer's contest, 31-24 in double overtime. Rasheed Gillis caught an interception in OT to secure Maryland's first win vs PA since 1991; Maryland's third win in ten meetings.
The 58th Big 33 Classic All-Star game is on Saturday, June 20. 2015. Kickoff: 7:00 PM at Hersheypark Stadium, Hershey Pennsylvania.
Pennsylvania holds a 7-3 series lead against Maryland.
2014: MD 31 PA 24 2OT
2013: PA 58, MD 27
1992: PA 38, MD 0
1991: MD 17, PA 9
1990: PA 42, MD 28
1989: PA 29, MD 19
1988: PA 21, MD 13
1987: MD 26, PA 22
1986: PA 21, MD 7
1985: PA 17, MD 14